Team black sheep been doing some great work lately with their new "crossfire" long range system. The current generation of 433MHz "LRS" have served us well, but where plagued by common issues. Notably, the on-board noise coming from different equipment within the aircraft. That super nice camera, with amazing colors, but cut your range completely, was typical of FPV flyers. GoPro™ and most, if not all others HD action cameras produce more or less noise right in the 433MHz band.
When I saw that the crossfire operate in the 900MHz region I was thrilled, I ordered one immediately. The amount of functionalities TBS packed inside is quite impressive, here's some:
Telemetry downlink
Beacon mode with own internal lipo (diversity rx)
Automatic/manual tx power level (up to 2W)
12ch support
OLED display for on-field configuration
Immune to on-board noise
Two rc models; diversity and micro (3.4g only!)
Plus many more and future features are just a software update away
Upon receiving my crossfire I proceeded to make a Moxon antenna for it: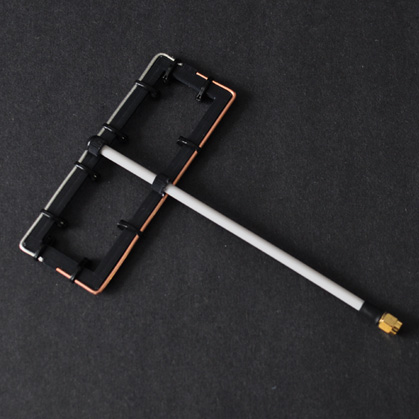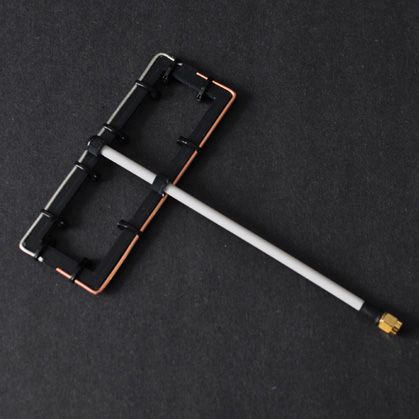 The Moxon is a nicely compact linear antenna. Still, I modified the design to have a balun build-in. This keep cable interactions in-check for a more predictable radiation pattern (6dBi).
I then made a clean install on my futaba 12Z: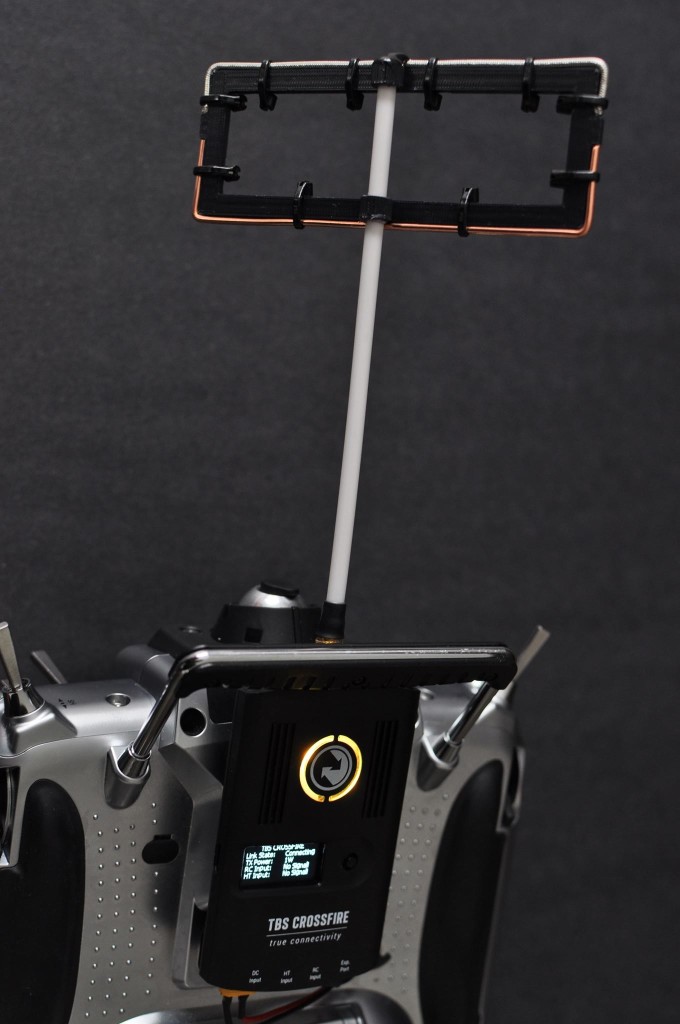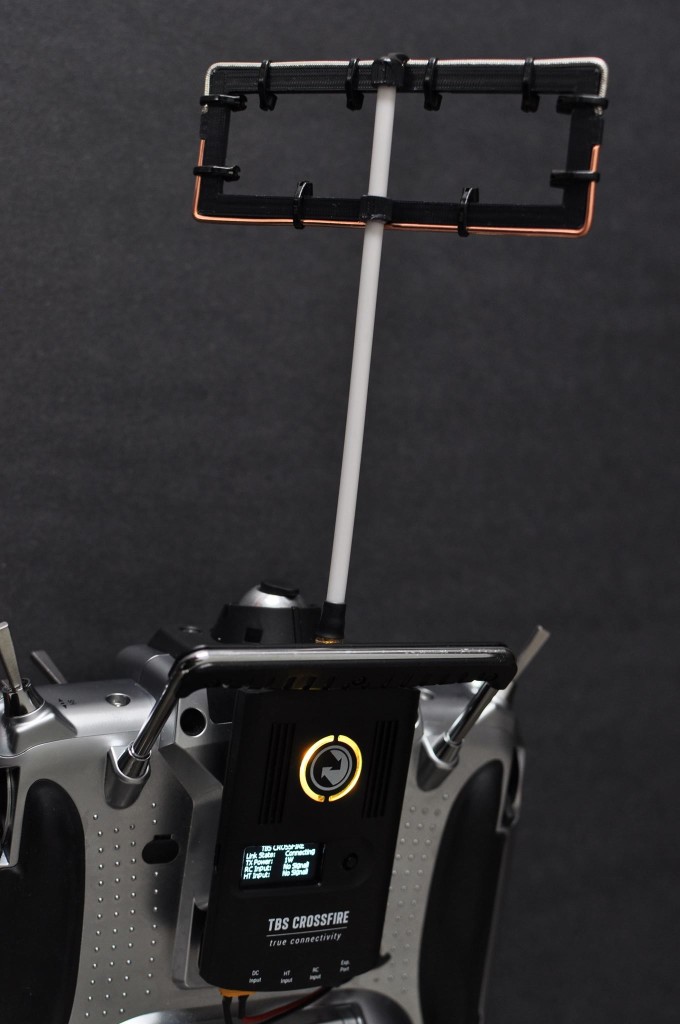 Power and signal where both wired internally. I added a JST port so an external lipo can supply the radio/crossfire as the stock Li-on is somewhat limited. Binding was straight forward and immediately 8 channels where available on the diversity rx. A quick tour in the crossfire tx back let me route the full 12ch PPM stream from my 12Z to channel #1 on the rx. That rx then went into my vector equipped quad copter.
Fail-safe was set and tested; Unplug power to the crossfire > fail-safe, plug power back > re-link immediately.
Simulating an out of range situation was a bit more difficult. I replaced the Moxon antenna by a dummy load and moved the radio as far as I could.  I did hit some brief fail-safe but could not get them to last, so I pulled the big gun. I powered my spectrum analyzer and set the tracking RF generator to output from 880MHZ to 950MHZ trough the Moxon antenna pointed at the rx. Link was still going strong. It show the crossfire's excellent ability to hop around the tracking RF generator as the later never occupy the whole band, but rather sweep it many times a second. Setting the RF generator to occupy the whole band was the only way to break the crossfire's radio link. This is by no way a scientific test, but it does make it ready for a test flight.
Good news from TBS and EagleTree systems!  You can now connect your Vector to your TBS Crossfire's I2C port, with the following benefits:
* The Crossfire transmitter will display your last GPS position and MSL Altitude. Once you connect the cable described below, assuming the Vector GPS has a fix, you should automatically see the GPS position display on the back of your transmitter, when you select that display page on your transmitter. If the position shows up as "0", something is wrong.
* RSSI and LQ are automatically received by the Vector, without needing to do any PPM mapping or additional wiring. To display these readouts on the OSD, after connecting the cable described below, just rerun the Vector's Receiver Analysis Wizard, and add the readouts to your OSD screen. Make sure you verify proper operation of these readouts.
To utilize this feature, you will need to install version 11.94 or later Vector software.
NOTE: at this writing, this software is in BETA – read the warnings carefully!
You will also need to build a cable that connects between the Vector's "BUS" port and the Crossfire receiver's "BST" port. See the photos of the cable below. Note that the cable below was made by splicing the BST cable included with the Crossfire to a Vector "BUS" cable (JST "ZH" connector).
Note that the cable must be at the end of the Vector's "BUS" chain since no power is supplied through the cable. But, any of the "BUS" connectors off any Vector peripheral can be used.
ET may later offer the cable pre-made if there's enough demand – let us know!
IMPORTANT: don't connect the cable to any Vector port other than "BUS," or to any receiver port other than "BST". Doing so could damage your equipment!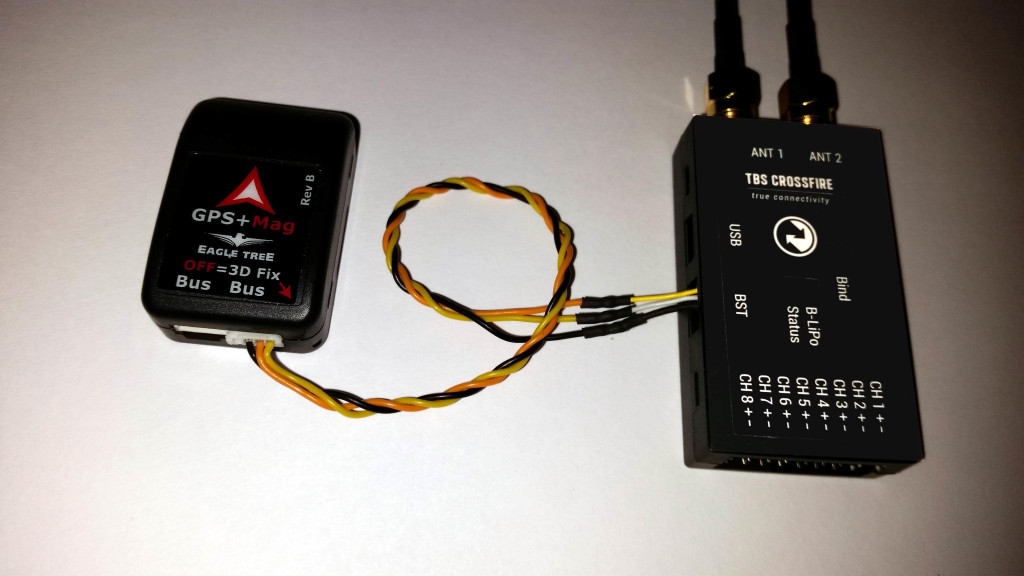 All you need is to thinker a custom harness (soon to be available from EagleTree I guess) Those who do not want to wait can look closely at theses two pics and make their own easily. (Don't hesitate to contact me is you need help).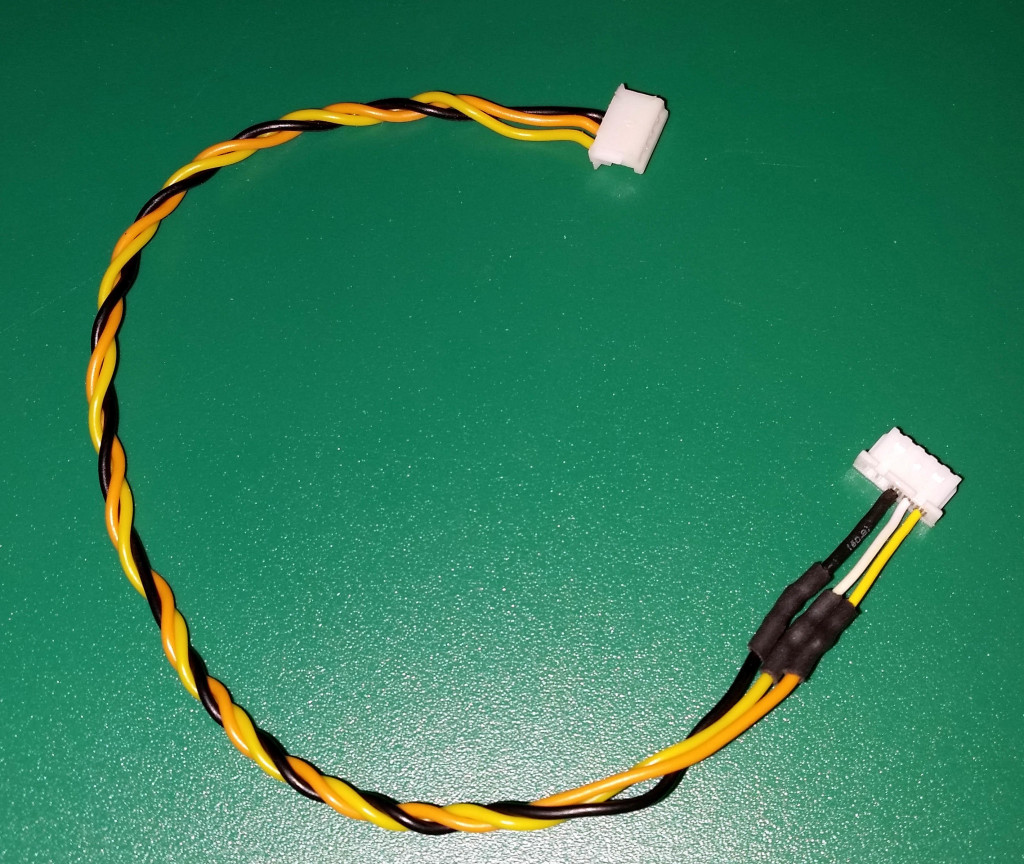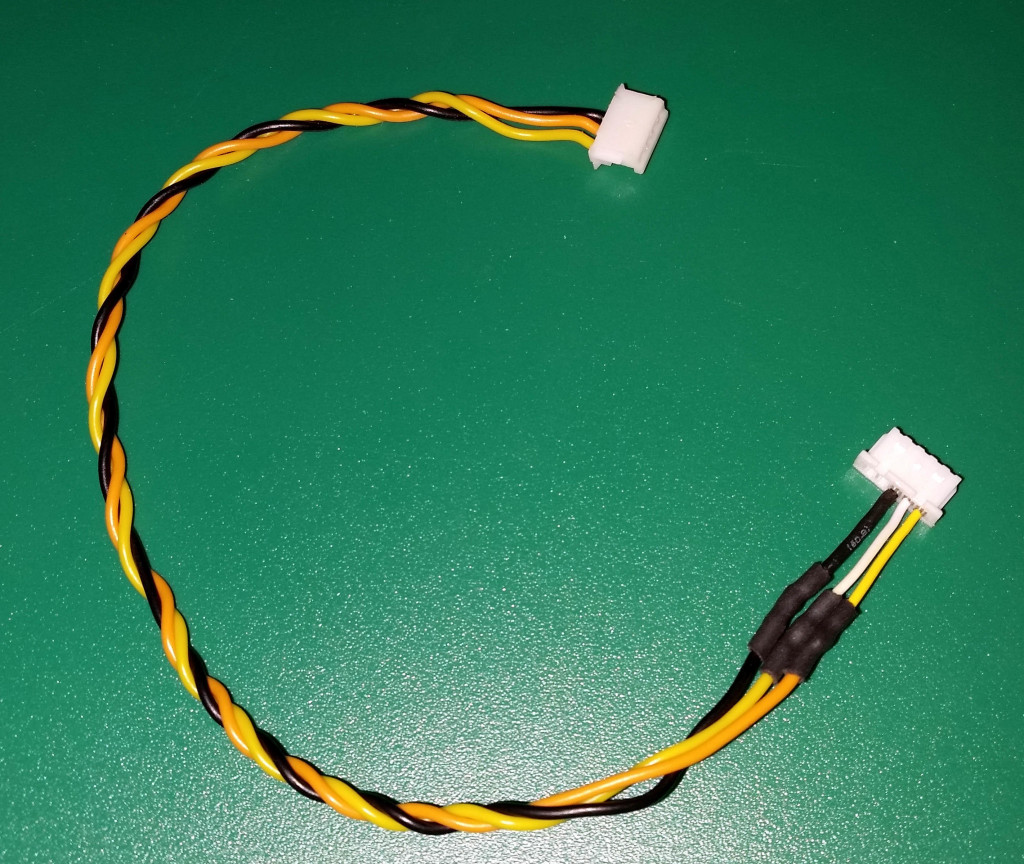 Hugo Chamberland, TrueRC Canada